Posts for tag: tmj disorders
By Today's Dentistry
May 12, 2020
Chronic jaw pain can be an unnerving experience that drains the joy out of life. And because of the difficulty in controlling it patients desperate for relief may tread into less-tested treatment waters.
Temporomandibular disorders (TMDs) are a group of conditions affecting the joints connecting the lower jaw to the skull and their associated muscles and tendons. The exact causes are difficult to pinpoint, but stress, hormones or teeth grinding habits all seem to be critical factors for TMD.
The most common way to treat TMD is with therapies used for other joint-related problems, like exercise, thermal (hot and cold) applications, physical therapy or medication. Patients can also make diet changes to ease jaw function or, if appropriate, wear a night guard to reduce teeth grinding.
These conservative, non-invasive therapies seem to provide the widest relief for the most people. But this approach may have limited success with some patients, causing them to consider a more radical treatment path like jaw surgery. Unfortunately, surgical results haven't been as impressive as the traditional approach.
In recent years, another treatment candidate has emerged outside of traditional physical therapy, but also not as invasive as surgery: Botox injections. Botox is a drug containing botulinum toxin type A, which can cause muscle paralysis. Mostly used in tiny doses to cosmetically soften wrinkles, Botox injections have been proposed to paralyze certain jaw muscles to ease TMD symptoms.
Although this sounds like a plausible approach, Botox injections have some issues that should give prospective patients pause. First, Botox can only relieve symptoms temporarily, requiring repeated injections with increasingly stronger doses. Injection sites can become painful, bruised or swollen, and patients can suffer headaches. At worst, muscles that are repeatedly paralyzed may atrophy, causing among other things facial deformity.
The most troubling issue, though, is a lack of strong evidence (outside of a few anecdotal accounts) that Botox injections can effectively relieve TMD symptoms. As such, the federal Food and Drug Administration (FDA) has yet to approve its use for TMD treatment.
The treatment route most promising for managing TMD remains traditional physical and drug therapies, coupled with diet and lifestyle changes. It can be a long process of trial and error, but your chances for true jaw pain relief are most likely down this well-attested road.
If you would like more information on treating jaw disorders, please contact us or schedule an appointment for a consultation. You can also learn more about this topic by reading the Dear Doctor magazine article "Botox Treatment for TMJ Pain."
By Today's Dentistry
November 09, 2018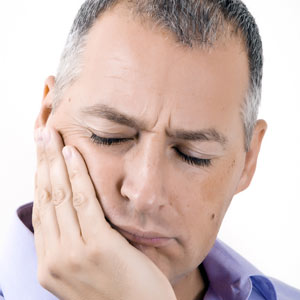 It's estimated that between 10 and 40 million adults in the U.S. suffer from chronic jaw pain and disability. Healthcare providers refer to it as temporomandibular joint disorder (TMJD), a group of conditions characterized by pain and limited function with the jaw joints, as well as related muscles and tissues.
People with TMJD often experience popping, clicking or grating sounds when they move their lower jaw. The more serious symptoms, however, are severe pain and limited movement of the jaw. The causes of TMJD haven't been fully substantiated, but it's believed to be influenced by a person's genetic background, their gender (most patients are women of childbearing age), their environment and behavioral habits. This uncertainty about the underlying causes has made it difficult to improve treatment strategies for the disorder.
One promising area of research, though, is suspected connections between TMJD and other health problems. In one survey of over 1,500 TMJD patients, nearly two-thirds indicated they had three or more other chronic conditions. Among the most frequently named were fibromyalgia, chronic fatigue syndrome, rheumatoid arthritis, and sleep disturbances.
We're not quite sure how or why TMJD might be linked to these other conditions, but further study is underway. Researchers hope any knowledge uncovered could lead to advances in our ability to diagnose, treat and prevent TMJD.
Until then, the more traditional treatment approach remains the best course of action: medication to relax muscles and relieve pain; thermal therapies using hot and cold compresses during flare-ups; and physical therapy. Switching to softer foods temporarily may also give jaw muscles a rest from over-activity. Although jaw surgery is an option, we should consider it a last resort after other therapies have proven altogether ineffective in relieving pain and restoring function.
If you suspect you have TMJD, please visit a medical doctor first. Other conditions could mimic the symptoms of the disorder and would need to be ruled out first. If the diagnosis is TMJD, you're not alone. You can receive information, support and updates on the latest research by visiting the TMJ Association at www.tmj.org.
If you would like more information on chronic jaw pain, please contact us or schedule an appointment for a consultation. You can also learn more about this topic by reading the Dear Doctor magazine article "Chronic Jaw Pain and Associated Conditions."
By Today's Dentistry
April 01, 2017
After ruling out other causes for your jaw pain, your doctor or dentist has made a diagnosis: a temporomandibular joint disorder (TMD). With TMD, your pain symptoms and other dysfunctions are due to a problem associated with the temporomandibular joint (TMJ) that connects your lower jaw (mandible) to your upper skull (cranium).
There are a number of treatment options, but most can be classified as either aggressive or conservative. Aggressive treatments are more interventional and target problems with the teeth such as bite problems or jaw relationships as they relate to the bite, which are thought to be underlying causes for TMD. Such treatments include orthodontics to realign teeth, crown or bridgework, or surgical treatment to the jaw or joint itself. These treatments are controversial and irreversible — with no guarantee of symptom relief.
It's thought by many to be appropriate, then, to start with more conservative treatments. Many of these are based on treating the TMJ — which is a joint, a moveable bony structure connected by muscles and tendons — with an orthopedic approach, using treatments similar to those used for other joint problems.
Here, then, are some of those conservative therapies that may relieve your TMD pain and other symptoms.
Physical Therapy. Commonly used to treat pain and dysfunction in other joints, physical therapies like manual manipulation, massage, alternating hot and cold packs or exercises can be used to relax, stretch or retrain the muscles that operate the TMJ while reducing pain and inflammation.
Medications. Medications may be incorporated into the treatment plan to relieve pain, reduce inflammation or relax tense muscles. Besides prescription drugs, over-the-counter anti-inflammatory drugs (such as ibuprofen or acetaminophen) are also commonly used.
Bite Appliances. If night-time teeth grinding or clenching habits are a primary cause for the TMD, you may benefit from wearing an occlusal bite guard while you sleep, designed to specifically fit your upper teeth. Because the lower teeth can't grip the guard's smooth plastic surface when biting down, they'll more likely produce less force. This gives the jaw muscles a chance to relax during sleep.
Diet changes. Changing to softer foods, which don't require strenuous chewing, and eliminating the chewing gum habit will further help reduce stress on the TMJs and also give your muscles a chance to relax and heal.
If you would like more information on TMD and treatment options, please contact us or schedule an appointment for a consultation. You can also learn more about this topic by reading the Dear Doctor magazine article "Seeking Relief from TMD."